Our crisis response working group is hosting a meetup for care providers this Saturday, Nov. 20. See their invitation below, and RSVP if you'd like to attend!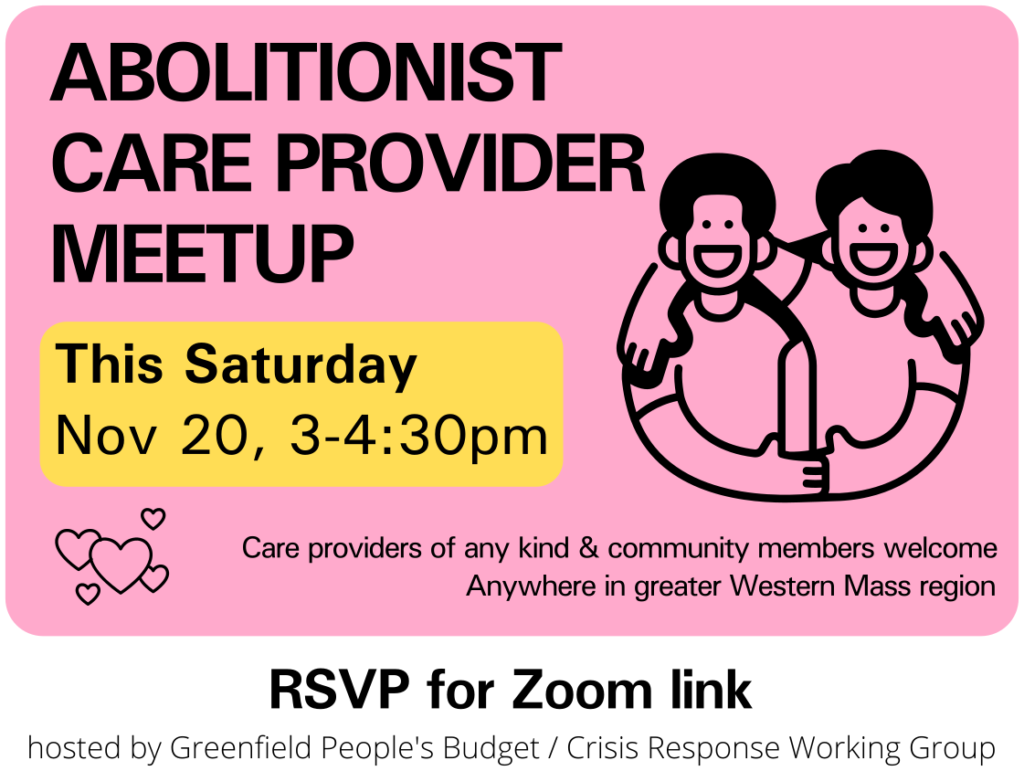 ---
Hello friends,
We are an abolitionist group in Franklin County working to build community safety. We invite you to a virtual meetup for care providers who are interested in stopping systemic cycles of harm and providing care in a just and liberatory way.
WHO: Care providers who are interested in the intersection of care provision, state violence, and social justice. We welcome community members and professionals, including social workers, therapists and counselors, nurses, doctors, birth workers, holistic practitioners, EMTs, patient care advocates, domestic violence advocates, mental health advocates, direct Service/direct care workers, CNAs, home health aides, medical assistants and secretaries, healthcare technicians, and phlebotomists. Open to anyone in the greater western Massachusetts region.
WHY: We have become deeply concerned with how policing and social control reach deep into care provision practices in Franklin County. We follow the leadership of abolitionist organizers in groups like Interrupting Criminalization and Critical Resistance, who highlight ways to build community well-being and self-determination by steering care practices away from policing and police-like interventions. We want community-led care rooted in the knowledge and wisdom of those who have been harassed, abused, jailed, and killed by the white supremacist, capitalist, patriarchal state and its affiliated institutions.
For this reason, we are working to establish a non-police, civilian emergency response unit in Franklin County. Greenfield officials and many community members have already shown interest in such a program. We are looking for abolitionist providers as partners to help develop a program that is truly an alternative to policing and coercive/punitive interventions. To see a more detailed proposal, see our page on crisis response models.
WHAT: Meet each other and discuss ways we can support abolitionist, community-led models of care across our region in an on-going way. Some ideas we've considered already include:
Sharing abolitionist knowledge and practices among providers, such as alternatives to calling the police
Organizing public discussions and teach-ins on police abolition for care providers
Supporting providers to reach out individually to fellow providers
We also welcome your thoughts about how to build a local movement of abolitionist providers and care workers. Please reach out if you'd like to propose agenda items or goals/dreams for our meetup, or just bring them with you to the event!
WHEN: Sat., Nov 20, 3-4:30pm. RSVP for Zoom link. If you can't make a meeting but want to stay in the loop, please reach out and we'll keep you updated on the campaign and future events.
Thanks for your time, and we look forward to connecting with you.
In solidarity,
Members of the Crisis Response Working Group