Answers to common questions on:
---
Community Safety
This section is a work in progress. We will add more information and resources as soon as we can. For now check out our resources & links.
---
Participatory Budgeting
What is participatory budgeting?
In city government, participatory budgeting (PB) is a process where people have a say in how public dollars are spent. The process can look very different in different places, but usually it happens in four phases:
Gathering input and visioning solutions through assemblies, surveys, and canvassing. Residents talk about their priorities and community needs. They then come up with project and program ideas that could address those needs.
Program and project design in smaller sessions of elected representatives from the assemblies, together with experts and officials. These sessions flesh out the assemblies' visions for programs into a variety of detailed proposals.
Public votes to allocate funds to programs.
Implementation of winning programs. When PB is an on-going, annual process, the cycles starts over again the next year, and city officials report back to the assemblies about past programs and answer questions from residents.
There are a few major benefits from implementing public programs in this way: 1) increased public engagement and involvement in city government; 2) greater accountability to the public on the part of city officials; and 3) city programs that are better suited to filling community needs.
For more information on PB, see our resources & links.
Is there a difference between a "People's Budget" and "participatory budgeting"?
Participatory budgeting is the process. The "People's Budget" is the end goal, the budget that we're going to write through the participatory budgeting process.
There is one difference between the process that we're proposing and the way it's done in some other places: our proposal is not formally a part of the city government process, so we won't have direct control over the allocation of funds. In places like Cambridge, Mass., the participatory budgeting process allocates money from a fund that's been set aside by the city for that purpose.
In our case, after we complete the three phases of gathering input, designing programs, and voting, we'll present our final product (the "People's Budget") to the Mayor and City Council and demand that they implement it. Groups in places like Nashville, Los Angeles, and Sacramento have used this same "outside" approach to propose changes to public safety programs, and this approach is catching on in lots of places.
Our city government could formalize participatory budgeting for future budgets, as other cities have done. We have chosen this "outside" route for 2021, but we look forward to the process growing and changing in future years.
How will Greenfield residents write a People's Budget?
There are six steps in the People's Budget process: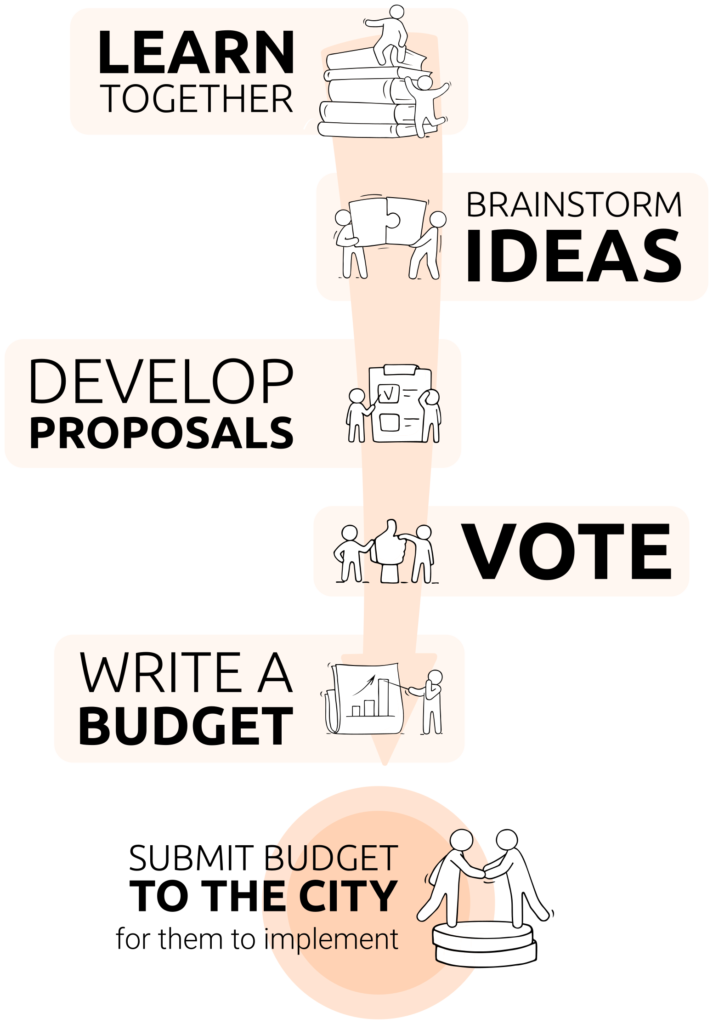 Learn together about community needs and ways we can meet them, through community-led teach-ins and other events.
Brainstorm ideas through public assemblies and surveys to better address community needs.
Develop proposals that are feasible, in smaller meetings between volunteer delegates from the assemblies and experts on city budgets.
Vote: get feedback from the community through public votes and surveys.
Write a budget based on community priorities, again in smaller meetings between delegates and experts.
Submit the budget to the city government for them to implement.