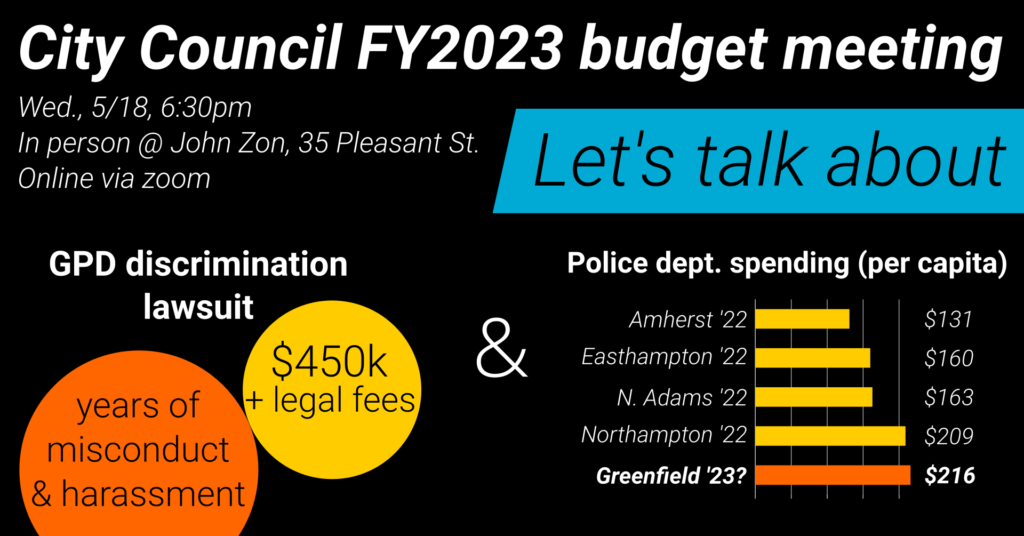 Greenfield spends way too much of our money on a corrupt police department. This is absurd and shameful for many reasons:
The Buchanan case sheds more light on the long history of racism at the GPD, as well as sordid details of on-going misconduct by GPD officers.
Greenfield spends way more per capita on policing than similar cities and towns in our region.
GPD spends only a tiny fraction of their time and resources on anything related to allegations of crime. We should cut spending to institutions that cause harm and invest in programs that address the root causes of social problems.
1. The Buchanan case
On May 6, 2022, a jury awarded $442k to former GPD officer Patrick Buchanan, who sued Chief Haigh and the City of Greenfield for racial discrimination (see Recorder article). This case brings to light yet more details in a long history of blatant racism at GPD. The mayor supports Chief Haigh and intends to appeal–under the presumption that a Chief who thinks racial bias in traffic stops is "not a problem"; and Lt. Daniel McCarthy, who proudly displayed a Confederate flag in his garage causing public outcry (and whose own promotion to Sergeant was the subject of a state corruption investigation, and who has a record of harassing numerous residents), will somehow be cleared of "racial animus" against a Black officer. (Or, more likely, the City of Greenfield hopes they can strike the incident of the Confederate flag from the evidence, as they tried repeatedly to do in the case already decided.)
Some important back story (drawing partially on published court documents):
Chief Haigh pushed hard for GPD to leave the Civil Service hiring system, saying this change allowed him to hire "local" officers that are "well qualified." We now know that he started pushing to leave Civil Service around the same time he wanted to avoid promoting Officer Buchanan, who had scored the highest among prospective sergeant candidates on the Civil Service exam. At that time, Haigh instructed Lt. Dodge (Buchanan's co-plaintiff) to contact the state of Massachusetts to ask for guidance on how to avoid promoting the highest scoring candidate. (Does hiring "local" mean hiring white, Chief Haigh?)
Buchanan was demoted after a complaint by then-Sgt. Dan McCarthy for issuing a warning instead of a ticket to a driver. McCarthy became famous that same year for proudly displaying a large Confederate flag in his garage, causing huge public outcry but meriting no disciplinary action from Chief Haigh. McCarthy was also the police liaison to the town's Human Rights Commission–appointed by Chief Haigh. Despite widespread condemnation of McCarthy, Haigh refused to appoint a different liaison to the HRC–demonstrating a deep lack of interest in human rights or in the public's concerns. Greenfield tried repeatedly to prevent the Confederate flag incident from being considered as evidence in the trial.

Note: Even after the Confederate flag incident, Haigh repeatedly assigned McCarthy as the investigator of a string of racist and homophobic harassment incidents. Thank you, Chief Haigh, for demonstrating so plainly how little you care about civil rights.

After demoting Buchanan over McCarthy's spurious complaint, Haigh passed over Buchanan for promotion on numerous occasions. On those occasions, he promoted instead the former Sgt. Rode (who was the officer who killed someone in 2017 when he was driving his cruiser over 80mph on High Street; and who was not disciplined for that incident until he was convicted in court) and Sgt. Clark (who had been removed from Court duty after it was discovered that he was inebriated while working; and who was minimally disciplined for that event).
Haigh called Buchanan "lazy." Chief Haigh and other officers called Buchanan hard to get along with, complaining among other things that Buchanan had inappropriately "disciplined" a subordinate [white male] officer by taping his locker shut–when that officer repeatedly left his locker open, unattended with his gun sitting inside. (Note that officer Laura Gordon, by contrast, was suspended twice for failure to secure her gun in the police station.)
The City of Greenfield sought to discredit Buchanan in the trial by interrogating details of his sex life.
The racial discrimination shown in this case is consistent with GPD policing of the public, as well. Greenfield police issue citations to Black drivers and arrest Black people at a rate much higher than white people (See data for 2018, 2019, 2020). At rallies held in the summer of 2020, current and former BIPOC residents of Greenfield and Franklin County shared extensive accounts of mistreatment by GPD. The misconduct and inappropriate behavior of officers catalogued in court documents–and the lack of disciplinary action against those officers–is also consistent with complaints we have heard from many residents of Greenfield about mistreatment by Greenfield police, and we welcome the opportunity to see so much evidence of this misconduct in written form, all in one place. It is past time to do something about a department that routinely abuses their power.
Additional links to published court documents of interest:
To find and browse the records yourself, visit https://masscourts.org and search The Superior Court, Hampshire District, for plaintiff Patrick Buchanan, or docket 1780CV00033. Note that almost all of the evidence is confidential, so available documents are limited to the court process (hundreds of pages!). We will have to file a records request to get redacted versions of the evidence and testimony.
2. Greenfield spends way more per capita on policing than similar cities and towns in our region.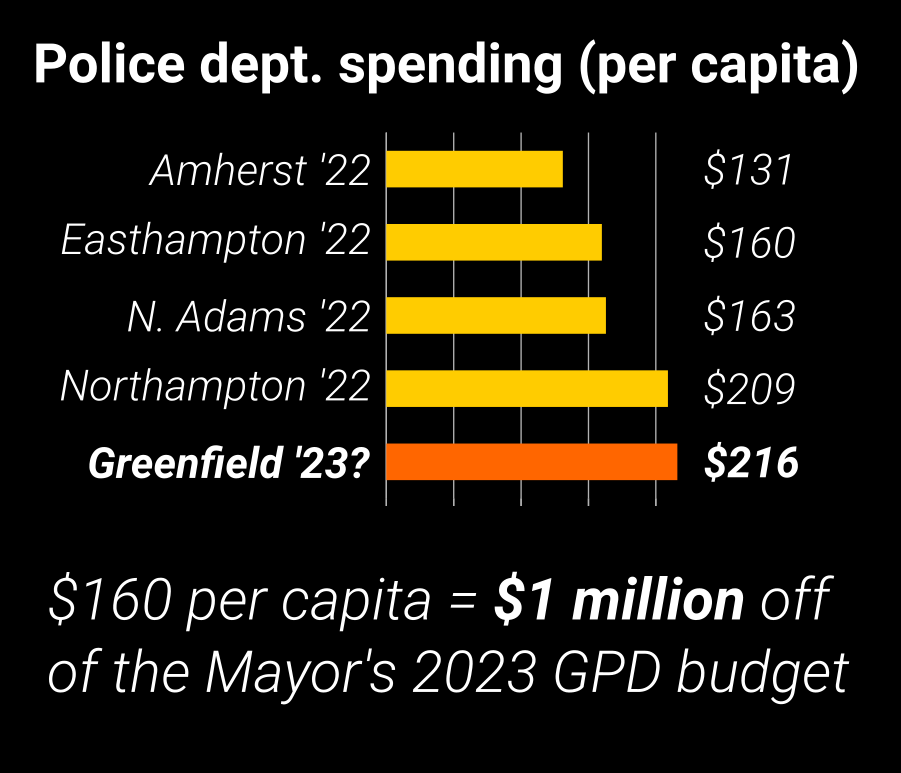 Greenfield has a population of 17,768, and the Mayor has proposed a police budget of $3,839,101 for FY2023 (although the actual amount is much higher, because that figure doesn't include any benefits, such as health insurance or pensions). That's $216 per capita (per resident of Greenfield), excluding benefits.
Other cities for comparison:
Easthampton (pop. 16,211) spent $160 per capita on police in 2022.
North Adams (pop. 12,394) spent $163 per capita on police in 2022.
Amherst (pop. 39,263) spent $131 in 2022.
Only Northampton (pop. 29,571) spent at a similar level to Greenfield–$209 in 2022.
If Greenfield spent $160 per capita on police, that would be $1 million less than what we spend now.
In other cities, police and fire budgets are also generally equal. In Greenfield, the proposed FY2023 police budget is a full 32% higher than our fire department budget.
Additionally, 10 out of a total 34 officers at GPD make over $100,000 base salary–that excludes all overtime, special stipends, and allowances, all of which are significant portions of their earnings. Higher-earning officers routinely work overtime because their hourly rate is so high (which only exacerbates the usual burnout that officers struggle with), typically on traffic details. We could save lots of money by hiring DPW workers to direct traffic as needed during their regular work hours, rather than paying our most expensive employees time-and-a-half.
3. GPD spends only a tiny fraction of their time and resources on anything related to allegations of crime.
The Greenfield Police Department's own data show that only a small portion of their caseload is responding to reports of crime. The majority of GPD work is responding to community requests for assistance.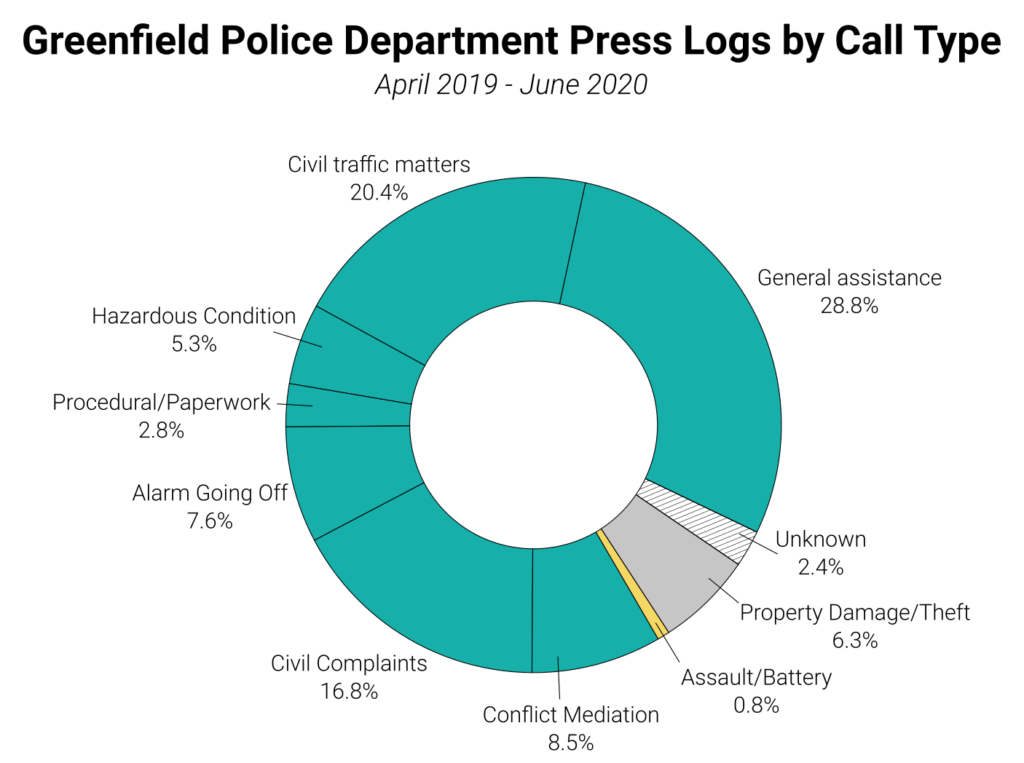 GPD only made 265 arrests in 2020–fewer than one a day, mostly for minor infractions. Arrests have been steadily, sharply declining since a peak in 2008 (1,244 arrests).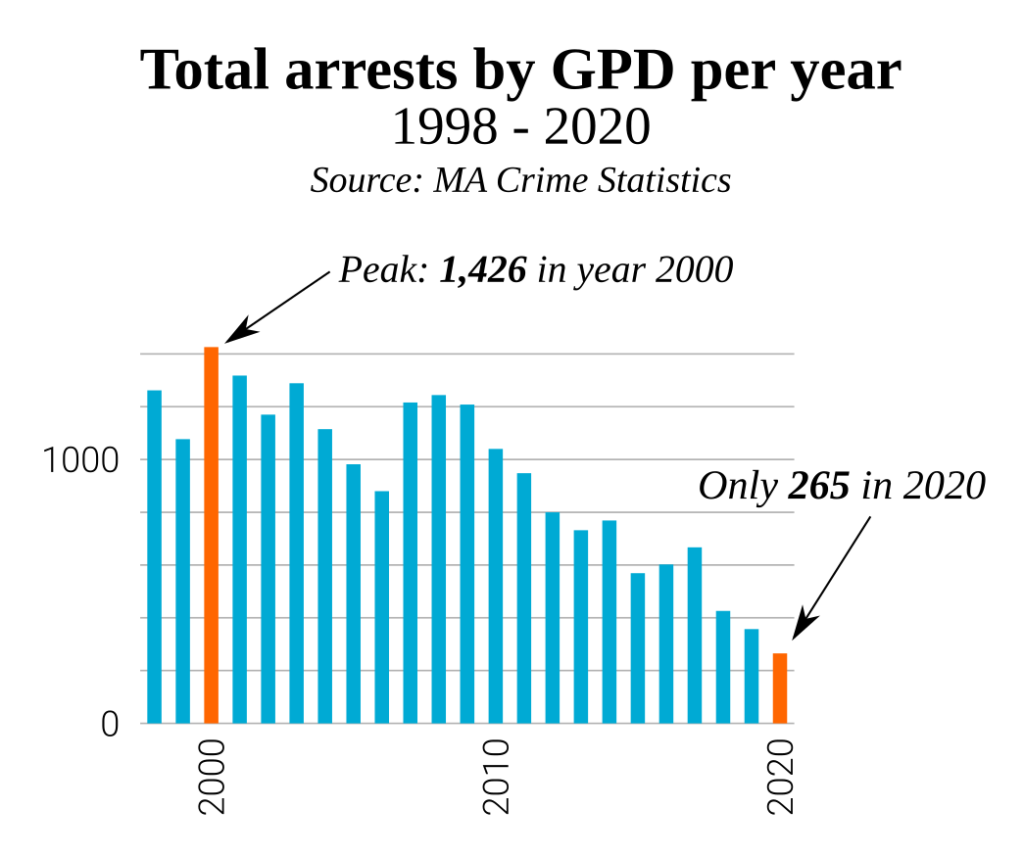 Additionally, Chief Haigh has been pushing to expand expensive, misguided "community policing" initiatives that harm those they're supposed to help.
GPD has three "community resource officers" whose job is allegedly to support struggling members of the public, especially our neighbors who lack housing. But police are not care providers, and police culture is completely incompatible with harm reduction. We have heard repeated complaints about mistreatment and punitive sanctions by the CROs against houseless people–for example, that an officer will offer someone a backpack of groceries and toiletries only to turn around and issue them a citation.
GPD contracted with CSO for a "co-responder" mental health clinician to accompany police on mental health calls. However, police trainers (CIT) and even the federal government say that co-responder models are misguided, and mental health calls should be answered by providers without police involvement. See our FAQ on co-responders.
It is ridiculous to pretend we can provide social services through the police. Our resources would be better spent on programs that deal with the root causes of harm, programs that have proven track records of improving outcomes for community members without threat of punishment, violence, or incarceration.
GPD's own data support this conclusion. In 2020, GPD reported 18 injuries from use of force. 14 of those injuries happened on calls related to mental health or substance use–calls that civilian programs handle exceptionally well, with no reports of injury over many years.
Tell councilors we've had enough.
A corrupt, bloated GPD needs to be cut. At the same time, Greenfield can join the growing number of cities shifting budget priorities to reduce their reliance on police and instead meet the real needs of people in the community. Let's shrink GPD by $1 million and invest in our community instead.
Call or email city councilors, and attend the budget meeting May 18, 6:30pm, in person at the John Zon Center, and make public comment if you can.