Two upcoming events on reshaping public safety and responding to community needs: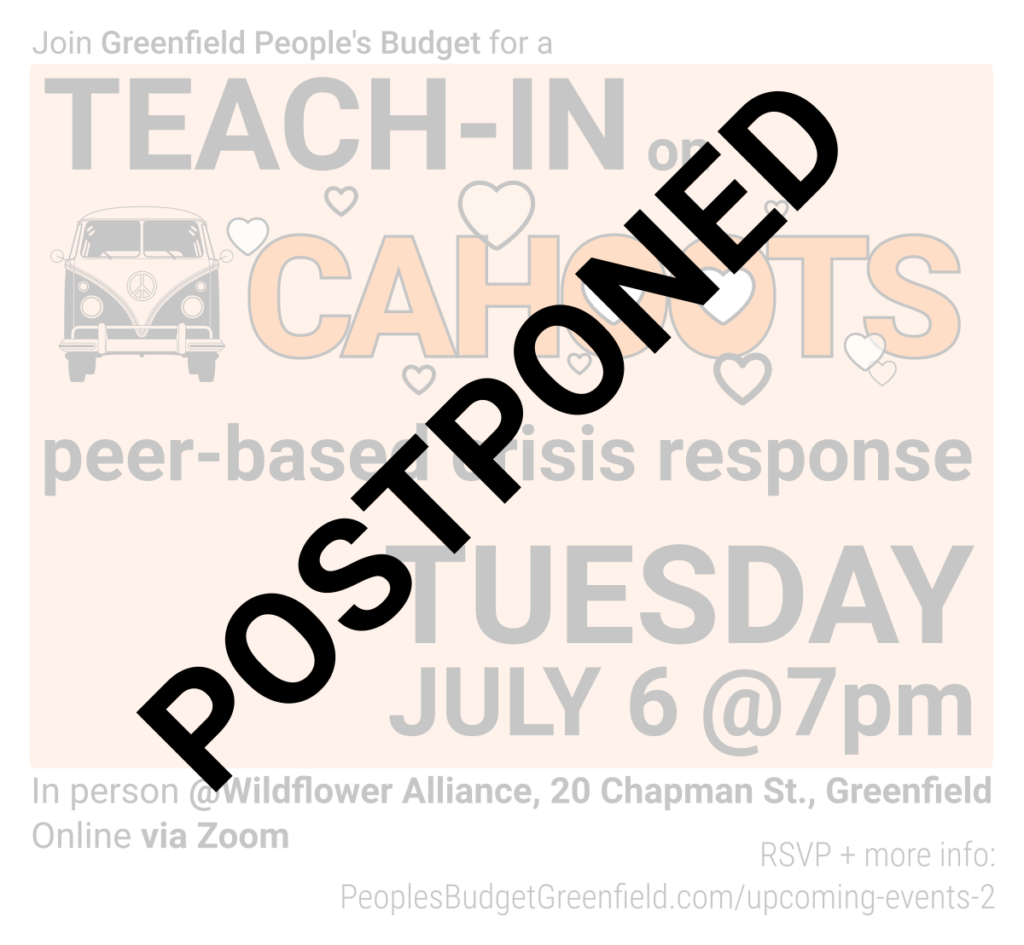 This event has been postponed! New date TBD.
We've had some complications with scheduling in the space for an in-person event. Keep an eye out for a new date!
Join us for a community teach-in on CAHOOTS on Tuesday, July 6, at 7-8:30pm, at the Wildflower Alliance, 20 Chapman St., Greenfield and online via Zoom. RSVP here for Zoom link!
NOTE: Wildflower Alliance can host max. 10 people in their Greenfield space, so if you have the ability to join by Zoom, that will help keep the event accessible for others.
CAHOOTS is a publicly-funded, peer-based crisis response program, running since 1989 in Oregon. They dispatch a two-person team of a medic and a crisis worker and "deliver person-centered interventions and make referrals to behavioral health supports and services without the uniforms, sirens, and handcuffs that can exacerbate feelings of distress for people in crisis."
Programs based on CAHOOTS are starting up in Northampton and Amherst and all over the country. At the teach-in, we'll talk with folks from Franklin and Hampshire counties about this great program.
Come learn with us!
Hosted by the Greenfield People's Budget
More about CAHOOTS and RSVP here for Zoom link.
---
On July 26 Racial Justice Rising hosts Queen-Cheyenne Wade of The Black Response to talk about the HEART Program, a community effort to reshape public safety and policing in Cambridge, Mass. We'll share more details as soon as they're available.